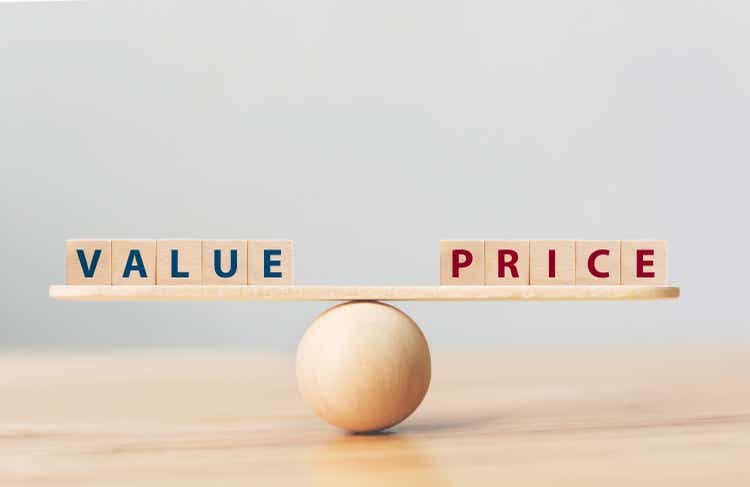 Corning Stock: Consistent Return During Volatile Times (NYSE: GLW)
In times of volatility like the current situation, it can be particularly important to find stocks that would generate solid value and provide stable returns over the medium term. While there aren't many companies in today's market that are profitable, show consistent growth, and are still reasonably valued with moderate valuation multiples, Corning (GLW) ticks all the boxes.
Corning Demonstrates Resilience and Steady Growth Despite Current Market Uncertainty
Over the past 3 months, the market has seen a somewhat belated correction, with many top tier stocks falling over 50% and the S&P 500 index dropping around 6%. During the same period, Corning shares rose 8%, significantly outperforming the market.
The company's stock momentum isn't random – over the past year, Corning has delivered strong fundamental performance and has been able to avoid supply chain issues that create hurdles for many other companies. Here's what CEO Wendell Weeks said on the latest earnings call:
We have seen steady growth. Sales have increased for six consecutive quarters. Since 2019, we have increased our sales by 21% and our EPS by 18%, with more balanced and consistent contributions across all of our businesses. It all starts with our consistent portfolio.
The company's product and supplier portfolio is so well-diversified that it has been able to maintain double-digit growth despite the challenges faced by its demand-side partners. For example, as automakers struggle to maintain production due to the chip shortageCorning's automotive revenue grew 16% in the last quarter, and the company is now pursuing a "$100-per-car content opportunity, driven by trends that are reshaping the automotive industry and reinventing the car."
In automotive, 2021 sales in our environmental technologies segment increased 16% to a record high of $1.6 billion despite weakness in the automotive market linked to chip shortages… Since 2017, sales environmental technologies increased by more than 40%, while car sales fell by 20%.
As a result, the company continued to grow revenue and cash flow, increase its cash position, and maintain strong dividends, while investing in promising new technologies and industries. And the latest results for the December quarter once again confirmed the bullish thesis.
The company posted exceptional results in the fourth quarter of 2021 and has always remained under the radar of many investors
The last quarter, the fourth quarter of 2021, was another excellent quarter for Corning, as the company demonstrated revenue growth of around 11% and beat both revenue and profit. It was the 5th consecutive quarter that Corning achieved double-digit quarterly revenue growth. The company has also exceeded sales expectations every quarter for the past 5 years.
With fourth-quarter sales of $3.71 billion and EPS of $0.54, Corning's annual revenue was $14.08 billion, with $2.07 of EPS not -GAAP. That represented roughly 25% growth in annual sales and 49% growth in EPS, and both are particularly impressive rates considering the company isn't directly benefiting from the pandemic, unlike most. digital-centric companies.
Corning has also improved its margins over the past year, which is always important for a hardware-first company. Despite potential supply chain issues and additional pandemic-related expenses, the company's gross margin increased to 36% in 2021 from 31% in 2020 and 35% in 2019.
We are focused on increasing our gross margin and expect improvement in 2022 as our sales growth and pricing actions continue throughout the year.
When it comes to operating margins and cash flow, the picture looks even brighter. Corning's operating profit grew from $509 million in 2020 to $2.1 billion in 2021, and its operating cash flow grew 57% from $2.2 billion a year ago. is one year old at $3.4 billion in 2021.
With current assets of $7.6 billion, including $2.1 billion in cash and $3.4 billion in annual operating cash flow, Corning easily hedges >100% of its long-term debt term, which stood at less than $7 billion at the end of 2021. shows that the company has great discipline when it comes to spending in volatile times, proving once again that the stock Corning is a safe bet.
Our gross and operating margins will also benefit from volume growth. Our operating leverage is such that additional volume leads to good additional profitability and becomes even more apparent when we compensate for inflation.
Finally, the company provided strong guidance for the first quarter and full year 2022. Corning expects first quarter sales to be between $3.5 billion and $3.7 billion ( against $3.44 billion according to the consensus) and an EPS of 0.48 to 0.53 cents (against $0.48). consensus). Given that the company tends to always beat quarterly expectations, we can expect revenue and EPS to be at the higher end of the range, which would put Corning for 13.5% revenue growth. and 18% year-over-year EPS growth. For 2022, Corning expects revenue "about $15 billion and earnings growth faster than sales."
Management's confidence in the company's future is also bolstered by the 13% dividend increase, meaning the stock's expected yield is now around 2.55%. Therefore, the stock should provide a strong and secure return over the medium term, even if the general market struggles to rise from current levels.
Corning's growth potential is promising as the company is exposed to many high-growth sectors
Looking to the medium-term future, Corning has great potential to maintain its significant growth rates through the company's exposure to many promising high-growth industries.
Corning's automotive business could continue to see tailwinds thanks to electrification, a focus on infotainment and higher environmental standards. So more screens in cars means Corning can sell more glass for screens. For example, Daimler's Mercedes-Benz EQS (OTCPK:DDAIF) was launched with the Hyperscreen dashboard displaywhich features a "nearly 5-foot-wide" Gorilla Glass lid, while Hyundai's (OTCPK:HYMTF) electric crossover, the IONIQ 5, at an augmented reality head-up display enabled by Corning's curved mirror solution. As more and more cars will include some sort of display solutions in the future, Corning has great potential to grow its business even further.
Additionally, stricter emissions regulations present a solid opportunity for the company's environmental solutions, such as particle filters. Therefore, although the electrification of the automotive industry may take some time, Corning can continue to benefit from sales of gasoline and diesel vehicles. This is also evident by the fact that sales of Corning's environmental technologies are up more than 40% since 2017, while global car sales are down 20%, according to Wendell Weeks.
In mobile consumer electronics, Corning could take advantage of the "great cyclewhich is currently driving smartphone sales for many companies, like Apple (AAPL). For example, in the last quarter Apple sold $71.6 billion worth of iPhones, 9% more at the same time last year. Since Corning is an exclusive supplier of iPhone glass (ceramic shield), the company is clearly benefiting from Apple's success.
Additionally, in May 2021, Corning received an additional $45 million in funding from Apple's Advanced Manufacturing Fund to continue developing future glass technology for Apple, securing the long-term relationship between the two companies. . It is also reported that Corning is working on flexible glass technology for future foldable phones, including possible foldable models of the iPhone.
Finally, it is worth mentioning Corning's solar activity. The company mentioned in the latest earnings call that its solar business, led by Hemlock Semiconductor Group, of which Corning owns >80% of the shares, has seen new demand for solar-grade polysilicon. This creates a promising revenue opportunity in the future, as the size of the solar energy market in the United States is expected grow significantly over the next few years.
With increasing business and interest in US-based solar manufacturing, customers have turned to Hemlock, a leader in polysilicon manufacturing… Going forward, solar remains a significant revenue opportunity for Hemlock. In the fourth quarter, we signed long-term supply contracts with customer depots that begin to change in 2022. As a result, we restarted unused capacity with minimal capital investment to meet this demand.
As the Market Favors Value Plays, Corning Offers a Great Investment Opportunity
Overall, Corning continued to demonstrate strong execution in the fourth quarter of 2022, proving that the company is capable of exercising great discipline in times of volatility. With low debt, high revenue growth, growing cash flow and a solid dividend yield, the stock looks like a terrific and secure investment for the near future.
The current valuation offers an excellent entry point, even after the recent jump in the share price. Corning's 2022 forward PE ratio of ~18 and ~18% EPS growth translates to a PEG ratio of ~1, making GLW reasonably valued by any standard, especially when compared to mid-range numbers Of the industry. This translates into a strong Seeking Alpha valuation rating.
With exposure to the automotive, consumer electronics, life science and solar energy sectors, Corning's business looks poised for success in the near future. And as the market becomes more favorable to value plays, we can expect GLW stock to see additional tailwinds thanks to general market sentiment.